Je vous en ai déjà parlé dans un article pré­cé­dent, c'est main­te­nant chose faite ! Ekiga 3.0 est dis­po­nible au télé­char­ge­ment depuis ce 23 sep­tembre 2008, après presque trois ans de codage acharné.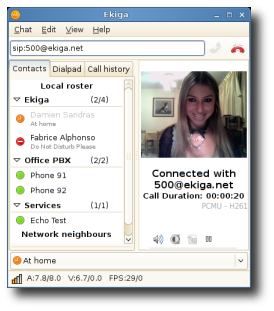 Voici la liste des prin­ci­pales fea­tures d'après le site offi­ciel :
Gra­phi­cal User Interface
New user inter­face with a buddy list
Acce­le­ra­ted video dis­play (Unix: XVi­deo, Win­dows: DirectDraw)
Nice inco­ming call notifications
Easier confi­gu­ra­tion assistant
New qua­lity meter in the sta­tus bar
Buddy list with exten­ded sta­tus information
Dis­plays net­work neigh­bours in the buddy list
Bet­ter key­board shortcuts
Auto­ma­tic account com­ple­tion in the URL bar
New chat window
New address book sup­por­ting Evo­lu­tion contacts, LDAP contacts and more
New account win­dow allo­wing easier account creation
New call panel
Codecs
H.263+
H.264
THEORA
MPEG4
Fra­me­rate up to 30 FPS
Reso­lu­tions (up to 704x576) (at best it is DVD quality)
Audio and video codecs as plugins
Sup­port for Intel IPP codecs
Féli­ci­ta­tions à Damien San­dras et à toute son équipe pour ce beau bébé.